---
Laser Body Pen | Massage Pen | Acupuncture | Magnetic Tip
Suffering from aching muscles and stress? All you need is our Healing Acupuncture Massage Pen that imitates the feeling of acupuncture therapy and creates a soothing effect for the parts of your body that is experiencing pain.
This acupuncture massager comes with a magnetic tip that has a vibration and electric shock pulse feature.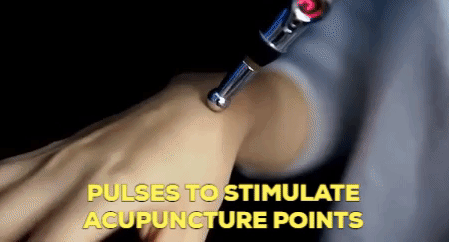 It comes with 3 tips that have different uses. The Dome type tip can be used for health care and facial beautification. The Node type tip works best for partial body pain. The Spheroidal tip helps to quickly ease the pain.
Features:
Needless Acupuncture- There are

 

no needles

 

involved, so there is

 

no skin piercing. Simply press the pen to the affected areas and it will release an electric pulse to stimulate the meridian and acupuncture points in your body for healing and pain relief.
Alternative Treatment- The

 

Electronic Acupuncture Pen

 

has no side effects, unlike medicated painkillers and other drugs used to treat chronic pain. It's great for treating acute and chronic physical pain caused by arthritis, rheumatism, osteoporosis, sciatica, migraine, sports injuries, and muscle, joint, and back pains.
Easy To Use-

 

The

 

Electronic Acupuncture Pen only needs

 

One AA Battery

 

(not included) to function.  It has a digital display that shows the strength of the electrical pulse output (0 - weakest and 9 - strongest). Simply press the start button to increase or decrease the strength of the electric pulse.
Features Two Special Functions-

 

The Dome Head

 

is superficial therapy, applicable for health care and facial beautification, while the

 

Spheroidal Head

 

is partial therapy, applicable for quickly alleviating pain.
Portable Pain Reliever-

 

The Electronic Acupuncture Pen is lightweight and fits easily in your pocket, bag, or pouch. Use it while traveling or just for a long day at work, where you'll need relief from your pain.
Shipping on prepaid orders is absolutely free for orders above ₹999.
For orders below ₹999 – delivery charges in India:
STANDARD Prepaid:

From
Up to
Shipping

₹

0

₹

149
₹75

₹

150

₹

499
₹60

₹

500

₹

999
₹50

Above

₹

999

Free

COD attracts extra cost due to high cost charged by delivery companies these days.
From
Up to

Shipping

₹

0

₹

299
NA

₹

300

₹

899

₹

115

₹

900

₹

1499
₹75

₹1500

₹1999

₹100

₹

2000

₹

2999

₹125

₹3000

₹4999

₹150
COD orders have been capped at ₹4999/- for now
lovely
Good product. But not extra ordinary, it can be used on others body but you cant do self treatment. O
Great product
It does what it says, the power is pretty high at level 2 or 3 itself, the pulse is effective in activating the muscle twitch, I am still learning how to use it effectively but its worth it.
Cool
Very good item for self accupuncture treatment. Powerful levels are there to increase the stimulation. We do not depend on needles treatment if we have it with us. Anytime and anywhere this can be used. Lot of my time is saved with this option.
Best product
excellent product...worth the money go for it
Best product
As stated. Good device. Works well.